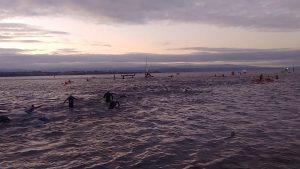 Lake Taupo welcomed athletes with crystal clear waters and a beautifully flat surface for the Ironman 70.3 rolling start. As our 70.3 athletes came out of the water, and the wind picked up, it was time for the Ironman athletes to enjoy the very few mass starts left in the Ironman world. With a bit of chop developing our athletes were set off for their 3.8km swim with the earth rattling explosion of a cannon.
Coming out of the water, for both the Ironman and Ironman 70.3 athletes, was a challenging up hill 800m sprint to the Transition one, where they grabbed their bikes and were off into New Zealand's picturesque countryside. Not swayed by the chill in the air and the ever increasing head winds, athletes pushed through two laps (1 lap for Ironman 70.3) of challenging terrain and undulating hills.
Speeding back into town, and the weather warming up, Taupo showed off its fantastic lake views, as athletes started the last leg of their journey on the undulating hills around Lake Taupo. With the 70.3 athletes finished and the sun setting, the crowds of Taupo only became louder and more encouraging, cheering our Ironman athletes home. What a fantastic day!
Congratulations to our 5 athletes – Troy Smedley, Tracey Davies, Ashley Williams, Nathan Manning and Deepak Raj – who completed the Ironman New Zealand and Ironman New Zealand 70.3. A special congratulations to Nathan Manning, who has been struggling with injury, completed his first full distance Ironman. Great job, Nathan!
Are you after help with your training? Do you want to take things to the Next Level? Get in touch with us today
– Ashley Williams (assistant Next Level coach)