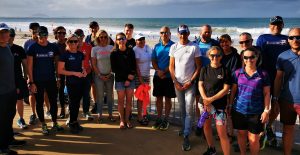 It's been a very challenging year for many athletes with pools closed, restrictions on group training and many cancelled races, but we've fought through it.
As triathletes we need to be able to adapt to challenging circumstances – no race is perfect. There'll always be a side wind, then head wind; rain, heat, dropped gels and the ever dreaded puncture. Adapting is what we do best.
Over the last few months we've made friends with treadmills: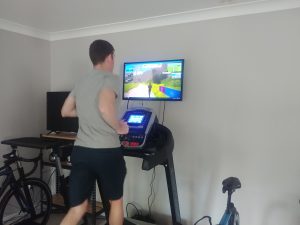 swimming tethers: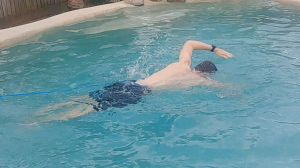 and some of us were even brave enough to master rollers: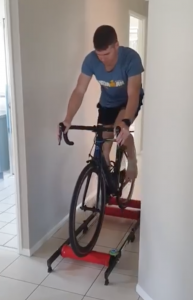 We've gained a lot of skills and mental toughness and now that races are back on, we're ready.
Race Rundown
Ironman Sunshine Coast 70.3 occurred on the 13th of September 2020, which was a very different looking race to what most seasoned athletes are used to. Despite the changes to the event, 18 of our Next Level athletes left their impression on the Sunshine Coast – what a fantastic site to see!
Getting up early on Sunday morning it was a surprise for most to hear the pitter patter of rain over head as the sun rose for the start of a beautiful day. Like Mooloolaba earlier in the year, athletes were faced with a late change to the swim, which had them starting and finishing S/E of the 'Loo With a View', which meant a much flatter and calmer swim, but a little bit of a challenging jog along the beach to transition one.
In and out of transition one, athletes snaked along the esplanade, cheered on by early rising spectators, and made their way up to the highway for a two lap, 90km, cycle, dotted with periods of rain, wind and sunshine. Very challenging conditions, but balanced out by the magnificent rainbow, which was a great reminder at how lucky everyone was to be racing again.
Coming back into town, with the rain finally clearing and the sun drying up the roads, athletes made their way back to transition two and headed out onto the esplanade for the two lap iconic run course, touring both Alexandra Headlands and Cotton Tree. With conditions heating up, the flood of volunteers and aid stations were greatly appreciated – the enthusiasm and dedication of volunteers is what really makes this sport so enjoyable.
Finishing up the run and cheered on by the hundreds of spectators, athletes welcomed the picturesque finishing line along the water's edge at Mooloolaba Beach.
Congratulations to our debut athletes, our 6 podium finishes, including Head Coach Toby Somerville, who won his age group, despite getting a puncture.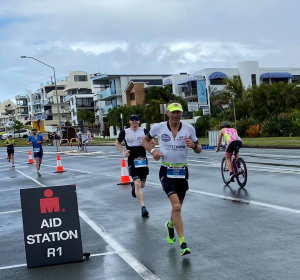 With Cairns in two weeks and the QTS series firing up, we have a summer of great racing to look forward to.